The price of oil is a critical global economic factor, which means that trading is influenced by political and commercial concerns. In general, higher oil prices tend to undermine economic growth as this increases travel and shipping expenses, which increase inflationary pressures. If the price of oil remains high over a long period, the cost of downstream products like plastics and fertilizers are affected as well.
Crude oil
Among the most commonly traded product is oil. Crude oil is a naturally occurring petroleum product commonly used in energy production and manufacturing. It is typically purchased with the intent to be refined into everyday uses such as diesel, gasoline, heating oil, jet fuel, plastics, cosmetics, medicines and fertilisers. As such its price has a dramatic impact on the global economy. It is traded in high volumes all around the world.
In line with the world's standard, there exist two major classifications of crude oil, and different platforms trade each. US oil is referred to as West Texas Intermediate (WTI), and  UK oil, called Brent Blend oil. The WTI is considered light with low sulphur content, is used commonly in US. The light density coupled with less impurities makes WTI oil a sweet crude oil, meaning it has a low density, and is more economical to refine and transport. Typically to demonstrate its worth, it trades higher at a dollar or two to Brent. The Brent Blend although not as light as the WTI is a sweet crude and contains approximately 0.37% sulphur. Being refined in Northwest Europe, it is used in production of petrol and middle distillates.
For example: at expiry time 12:00 GMT the old contract closing price was at US$35.50 per barrel and the new contract price is trading at US$40.50. At expiry, the old deal will be closed automatically at US$35.50. Any profit or loss will be reflected in the margin and thus in the free balance. You have to give special instruction to the dealer, and so the dealer will open a new deal at a price of $40.50 (the price of the new contract at 12:00 GMT), and place an amount equal to the remaining margin on the old deal, unless you provide other instructions.
Oil Trading Binary Options
Crude oil futures are standardized, exchange-traded contracts in which the contract buyer agrees to take delivery, from the seller, a specific quantity of crude oil (eg. 1000 barrels) at a predetermined price on a future delivery date. Forex platforms now provide ways for you to trade into oil futures, without actually having to trade the futures themselves, and thus avoiding the necessity of ultimately taking delivery of the oil which is a concomitant of the futures trade..
Traders everywhere would easily be lured towards it. It is after all a very influential element of the global market. It is greatly affected by the supply and demand thereby trade opportunities are basically always present. The only challenge is to know the right time to trade and where to go. If these problems will be solved, your bank account will always be full. As mentioned before, a lot of factors influence oil and with binary options you can have more gains when the prices go up or go down just as long as you can identify where it is heading. That is what the US Oil Trading System will try to achieve.
How oil trading works
To understand this fully you need to have basic knowledge trading binary options commodities. However this strategy is quite easy to grasp and fully works. Technically, it is a strategy that follows trend. It uses two indicators to recognize trend and retracement which will then be succeeded by trend resumption. This means that price may strongly move in a single direction and then it moves towards the opposite side. Once the first direction resumes, you then enter a trade. In order to achieve this, US Oil Trading system makes use two custom indicators specifically TCCI. This is an indicator that is based on Moving Average. The other indicator is called the Oil Biz where and arrow is placed at your point of entry. The two indicators are readily downloadable. Here is how it will look when you add it: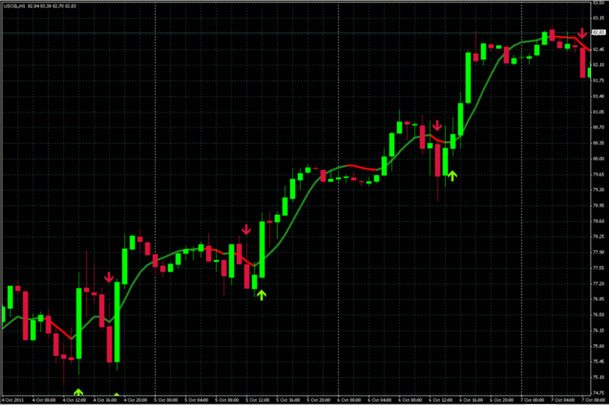 Necessary Indicators:
TCCI Indicator
OilBiz Indicator
When you download and install it, you will see a Meta Trader 4 terminal. On the chart you will see the TCCI. It will look like a moving average that comes with changing colors. You will see the arrows near the Oil Biz indicator. For trading according to this strategy you may need two indicators to have the same color. The strategy's author persists on a certain condition that is a bit complex to understand especially for a novice trader. The author noted that when the TCCI turns green on the two sides of the candle that is when a trade is finally confirmed. Additionally, the bur arrow must be up or both sides of the candle must be red with an arrow. The strategy also denotes that sometimes TCCI changes on similar candles where the arrow shows. This will appear that the candle's half matches up to the TCCI's green zone and a half to its red zone. These signals need not be traded. This will be easily understood when you see the charts yourself.
Advantages of Oil Trading Binary Options
The great thing about this strategy is that it is very user friendly and back test.
It's so easy especially when indicators will not re-paint.
Chart signals may look good however you can see much better results.
If the results are not that good, nothing can compete with a constant strategy such as the US Oil Trading System.
Thereby, it is all right to gain losses just as long as your in the money trades are more than you're out of money trade.
This will surely happen regularly. It may not be true that huge money can come quickly but once they come they will be very promising.
Disadvantages of Oil Trading Binary Options
You may have used dozens of indicators but you may notice that only a few stand out.
When you try to use a promising strategy such as TCCI or Oil Biz you can see a different view on trading. With this, you may not feel too comfortable with such strategy using indicators that you have not heard about.
There may be some repainting issues but it can be a major problem.
Moreover, there it is possible that there is an additional trend filter necessary because the arrangement of the strategy is not so good.
With it arrangement, you may be trading retrenchments and not trend resumptions.
The Bottom line
So it is very important, when trading oil on your forex platform, to be aware of any restrictions or time limitations that may apply. But clearly, the ability to gain such easy access to this fantastically liquid and fast-moving world market is a terrific opportunity for traders.
This system was created for trading related to oil or oil futures which allow traders to manage their money in a better way. It also allows traders to go for higher ratio in risks to rewards. This goes to show that traders may lose two trades and can make up for such losses with just one winner. However, this luxury cannot be attained in Binary Options not unless initial trades are double. However, this is something that you should not do. This may not be the most appropriate strategy but its power can come from the idea that it makes use of good risk to reward relation.
image courtesy: binaryoptionzone